D&M gallery
Automotive & Retail Point of Sale
Flags
Outdoor Flags
Gloss knitted polyester flags give life to dealerships and impact to events.
Australian Made.
Flag extenders pockets for maximum exposure.
Knitted polyester 130gsm gloss – Imported flags are generally only 90 gsm giving them less durability.
Generic Size - 3500 x 1200
Custom sizes available
Portable Flags
Gloss knitted polyester flags give life to dealerships and impact to events.
Portable flag poles are easy to assemble. They can be used with under-wheel bases or ground spikes.
Decals
Removable Windscreen Decals
Decals are printed on removeable Self Adhesive Vinyl and add colour and interest to showrooms, as well as highlighting special offers.
Custom design and sizes are available.
External Window Showroom Decals
High impact and visually impressive graphic integrates well with national advertising campaigns.
One way vision window film applied to outside of windows allows uninterrupted vision from inside dealership.
Car Decals
Car Side Decals
CCV side decals are great for generating interest with test-drive vehicles.
Dealer Car Side Decals
Text available in Black, White or Silver.
Logo in full colour (as per Guidelines)
Rear Window Decal
Available in white on clear substrate in 2 sizes.
Floor Decals & Mats
Non-slip, removeable floor decals & mats can be used to draw attention. Customised sizes available.
Fabric Graphic Display Frames
Maximum impact with a premium finish. Fabric frames offer complete versatility in dealership Point of Sale.
Frames can be wall mounted or free standing, single or double sided.
Fabric prints are very easy to instal and can be quickly changed for campaigns, seasonal or sale events.
LED backing panels are available to  transform your graphics into amazing backlit displays.
A wide variety of images, both current and classic are available.
Custom sizing available.
Please contact Display & Marketing for quotation.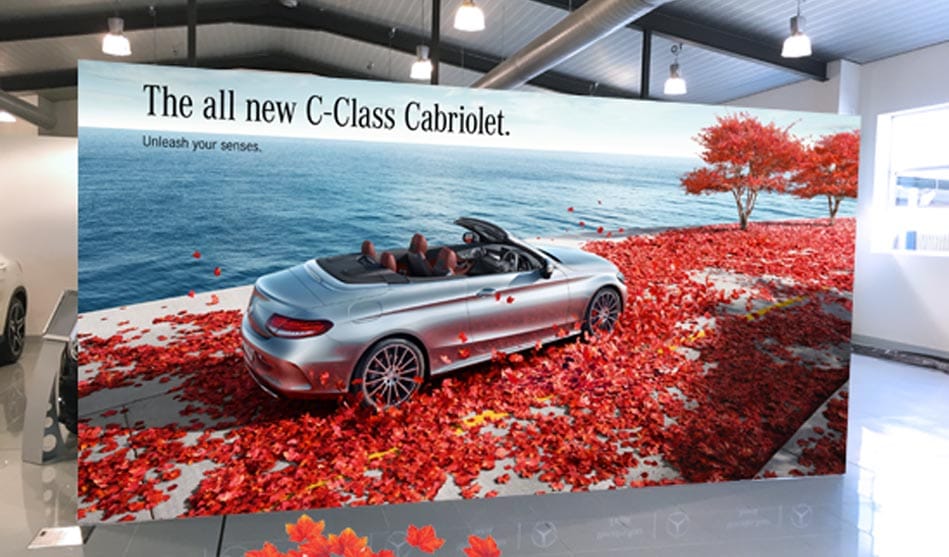 Media Walls
Lightweight, Media Walls can be set up or dismantled in less than five minutes and are perfect for dressing up a
showroom or creating impact at an event.
Interchangeable Graphic is printed on light weight creasefree knitted polyester and wraps around the ends for a clean look.
Carry bag and lightweight trolley are included.
Campaign-specific and personalised imagery can be produced.
Available in 3 sizes:
Small - 2250 x 2250mm
Medium - 3000 x 2250mm
Double sided available
Large - 4500 x 2250
Double sided available
Shopping Centre Activations
Shopping Centre displays are a great Call to Action for immediate results in customer test drives and conversion to sales.
D&M can project manage activations from start to finish.
Please contact D&M to discuss your requirements.
Specification Stands
Specification Stands offer an easy to use, highly visible and cost-effective way to display vehicle information.
Acrylic Signs
Customised Acrylic signage.
Funky Kubes
Lightweight Funky Kubes add interest to showroom areas.
They can be branded to suit individual dealerships. They function as seats and can be stacked to make a photo backdrop for delivery bays or sales events.
Rear Vision Mirror Hangers
Rear-Vision Hangers are laminated double-sided print for durability and re-use.
120 x 415mm.
Posters
Posters are a quick and easy way to add colour to a showroom and provide marketing support for current campaigns or new model releases.
Custom sizes available
Promotional Hanging Banners
A premium Point of Sale accessory for the dealership, gloss fabric banners are fully interchangeable and reusable for future campaigns.
Fabric banners are the perfect promotional event branding solution.
Banners allow for easy installation and storage.
Standard Size: 1500 x 2250.
Custom sizes available.
Wide range of imagery available on our data base.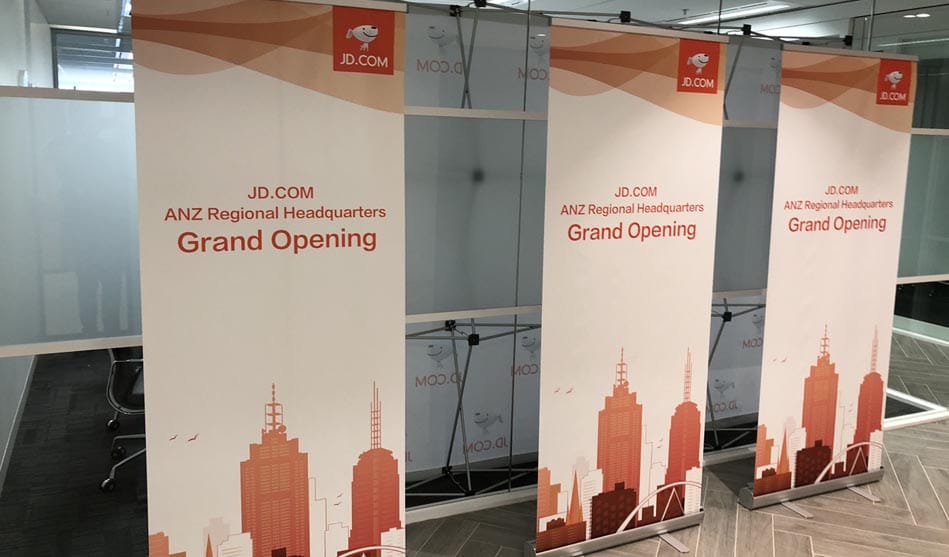 Premium Pull Up banners
Pull-up banners come in three standard size opti ons and can be single or double sided.
All graphics are premium and long-lasti ng digital print to polypropylene with a nonreflective laminate.
Available in 3 sizes:
800 x 2000mm
1500 x 2000mm
2000 x 2000mm
Delivery Bay Backgrounds
Delivery Bay wall graphic is ideal as a backdrop for social media posts on delivery of new vehicles.